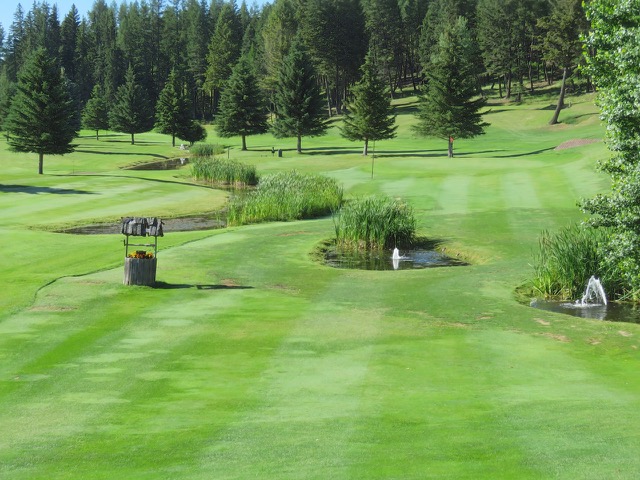 There is no one-size-fits-all plan for a great vacation: do you want to play or kick back? Spend the day indoors or out? Jerry's Bar & Restaurant at Meadow Creek Golf Course has options for anyone looking to take a break in Fortine, MT with spaces for getting active during the day and taking it easy once the sun goes down. For the sporty types, a golf course for all ages and experience levels to enjoy, while the more sedentary among us can make use of an RV park with room and amenities aplenty!
Taking it to the green on our Fortine, MT Golf Course
Our par-3 course offers nine holes of beautiful scenery and family-friendly golfing that will entertain both newcomers and experienced players alike. Tee times begin at 8:30 and are available throughout the day until sunset, though night sessions are occasionally offered as well. Call for details!
Sessions
1st Round: $20.00/person
2nd Round: $10.00/person
Golfers age 9 and under play FREE.
Rentals
Pull Carts: $4.00
Club Rentals: $6.00
Passes
Season Pass: $280.00/person
12-round Punch Card: $150.00/person
Park and put your feet up at our RV Park
If you're one of those more mobile adventurers who take their home with them on the road, Jerry's Bar & Restaurant at Meadow Creek Golf Course has just the place for you to break for the day. Our RV park in Fortine, MT has 12 spots with full hook-up lines and sites for septic dumping, along with the option for dry camping for campers who don't need a full RV site. Plus, there's no need to wait to check in until the afternoon. We offer check-in is between 8:30 and 11:00!
Plus RV park guests will receive a 10% discount at both the golf course and restaurant. Want to pass the time some other way? Our site also has nearby horseshoe pits, a liquor store, and an indoor common area with gambling, pool tables, and darts.
Rates
$30/night
$180/week
$400/ month (No monthly rates available from June-September.)
Additional
RV Dumping Station: $10.00
Dry Camping (no hookups): $10.00
Whether you're hoping to tee up or settle down, Jerry's Bar & Restaurant at Meadow Creek Golf Course has abundant opportunity for an easy and affordable Fortine, MT getaway. Give us a call at (406) 882-4474 for details, reservations, and more!